SAMUEL F. FORMAN PRESIDENT/CEO MICROCOAT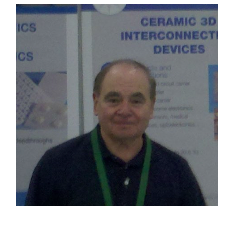 1316 Somerset Drive McKinney, TX 75070
Tel 972-678-4950 Fax 214-257-8890 Mobile 469-667-9166
E-mail: sam.forman@m-coat.com

From materials choice, pre-production, and full production, we can help to make the transition from solvent based coatings to a cost saving UV cure process; we have developed programs for showing exactly what your cost savings are and how quickly you can pay for any increase in equipment you may require. From today's "standard" jelly bean die attach materials to MicroCoat highly sophisticated materials; from "grandpa's old globtop technology" to highly refined IC/wirebond protection. Whether it is PCB assembly or microelectronics assembly MicroCoat has been consulting to very large and very small manufacturing companies for over 40 years. Problem and cost savings for MEMS processing; LED die attach and coatings; flexible conductive die attach materials for large die; coatings, potting, etc.

Call us today for a no obligation discussion on what your problem areas may be. We can solve your issue using the very best materials for your process whether they are ours or a competitors.

Member International Microelectronics and Packaging Society (IMAPS). Member since 1967 (No. 57-CHARTER MEMBER)

Fellow of the Society, Life, Charter, and Senior Member.

Daniel C. Hughes Award for Dedication to IMAPS

Past Associate Editor: Solid State Technology Magazine

Past President: Metro NY Chapter ISHM (IMAPS)

Past President: NM Chapter ISHM (IMAPS)

Vice President Carolinas Chapter IMAPS

Student Advisory Board: Canutillo TX. High School 1983 - 1985

Co-author: Low Stress Aerobic Urethanes Lower Costs for Microelectronic Encapsulation
2014 Symposium & Expo IMAPS New England 41st Symposium & Expo -Authored a PAPER "Update on Microelectronic Applications Using Fine Line/Fine Dot Conductive Adhesives and, A new development for globtop and wirebond protection for RF devices"

---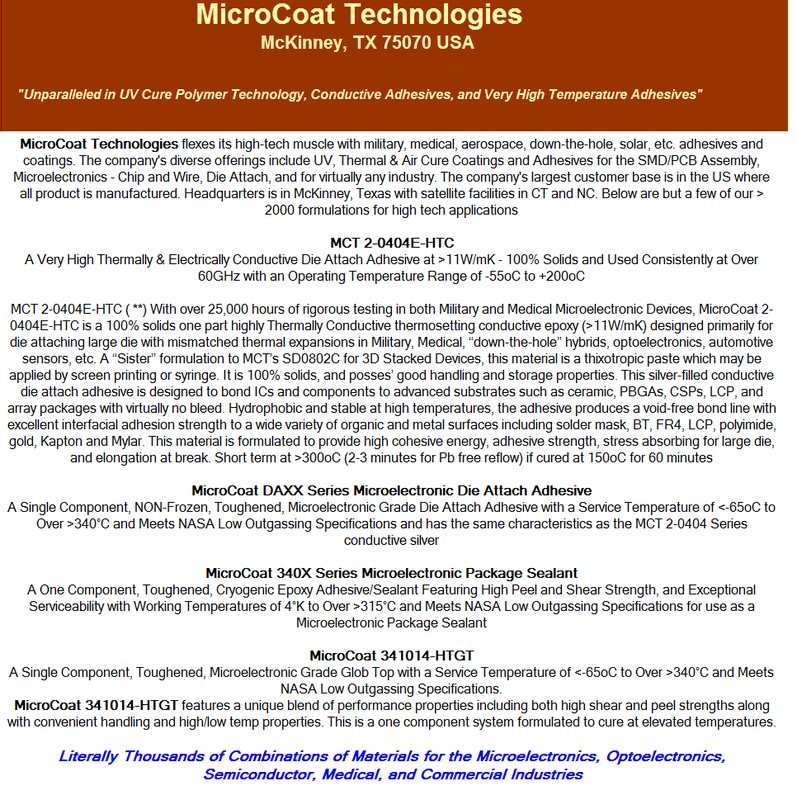 ---
ADHESIVES INFORMATION

CONDUCTIVE MICROCOAT APPLICATIONS AND MATERIALS