TECHCON SYSTEMS
Automated Benchtop Dispensing Robots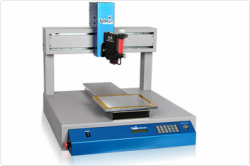 Techcon Systems - (Techcon Systems is a brand of OK International) Adhesive & Fluid Dispensing Equipment & SolutionsSince 1961 Techcon Systems has provided precision liquid dispensing & adhesive dispensing equipment to service industries including; aerospace, military, material packaging, industrial assembly, medical device, electronic industries along with others.

Our consumable product offering includes industrial dispensing syringes, cartridges and fluid dispensing tips. Additionally Techcon Systems offers automated fluid dispensing solutions including adhesive dispensing, liquid dispenser & epoxy dispenser systems, precision valves and controllers as well as a multitude of dispensing system solutions for your business.

Whether your fluid dispensing application is using material as thick as solder paste or as thin as a solvent, Techcon Systems offers a variety of adhesive dispensing & fluid dispensing system solutions to meet your applications requirements. Techcon Systems: Your local fluid dispensing & adhesive dispensing solutions worldwide.

---
The versatile TSR2000 dispensing platforms deliver consistent, high performance dispensing results at an affordable price, and are ideal for the following applications: dispense dots of solder paste, form-in-place gasket, filling, potting, encapsulation,bonding, coating and many more…

Designed and configured specifically for fluid dispensing applications, Techcon Systems robots provide total control over fluid placement, from beads, arcs and circles to repeated timed dots. Programming is simple via teach pendant.

From a general assembly manufacturer looking to automate an existing dispensing application to an engineer designing a production process from scratch, Techcon Systems dispensing robots offer unsurpassed value in automated precision fluid dispensing.

The bench-top dispensing robot series are available in 3 platforms:


TSR2201: 200mm X 200mm working area
TSR2301: 300mm X 300mm working area
TSR2401: 400mm X 400mm working area