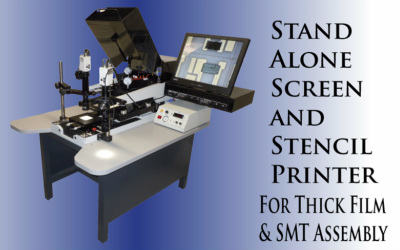 Micro Printing Systems is the worldwide manufacture and supplier of the MPS screen printers, Models TF100 and , SP1500 to the hybrid, ceramic, micro-electronic and PC solder paste industries. We provide worldwide sales, service, parts and technical support for our printers. See our other Web pages for sales, ordering, service, technical support and company information. We have an easy e-mail site for your convenience.

In 1998 MPS purchased the worldwide rights to the MPM TF100 and MPM SP1500 screen printers from MPM Corporation, which has manufactured over 3000 printers over the past 15 years. We have changed the models to MPS TF100 and MPS SP1500.

MPS offers a new service where older models can be refurbished to factory standards. We also purchased used models of the TF100 and SP1500. This allows us to now purchase and sell used models. Contact us for availability.
---
THICK FILM PASTE SQUEEGEES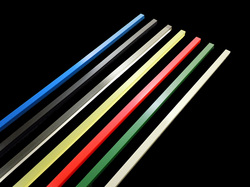 SQUEEGEES AVAILABLE IN ALL DUROMETERSAVAILABLE IN DIAMOND, STRAIGHT EDGE, AND DOUBLE BEVEL SHAPESEMAIL:
JOHN LITTLE
OR CALL:626-330-5592MICRO PRINTING SYSTEMS HD SQUEEGEE

Micro Printing Systems HD Squeegee Blades are made in America of the finest polyurethane elastomers available. The special molding process used ensures a uniform material, without voids, and hard or soft spots. All of our Squeegees are shipped with our special factory Edge. These Edges are the smoothest and sharpest available to give you maximum printing performance. These squeegees are manufactured to last and stay sharp two to three times as long as a standard squeegees. All Micro Printing Systems HD squeegees are guaranteed to be the most solvent resistant on the market. They are available in all shapes and sizes.
Epo Plus Inc.

In 1981, Epo-Plus, was founded in City of Industry, California to provide customers the convenience of packaged one and two part epoxies at a reasonable price. Epo-Plus offers packaging from one and two component epoxies in any size containers, to premixed epoxies in an assortment of sizes and styles of syringes. We can also work with customers to customize any type of packaging to fit their personal application. We offer packaging for all manufacturers materials such as Ablestik, Henkel, Epoxy Technology, 3M, Dow Corning, etc.. We also have a large inventory stock of these materials ready for next day delivery. Epo-Plus only requires a $50.00 minimum buy where as most manufacturers have very high order minimum and buy. We have been been repackaging epoxies for over 30 years without a single reject.

---