AYDEEKAY- is now indie Semiconductor a privately held semiconductor company, specializing in custom ASIC development for embedded systems in the consumer, medical and automotive spaces.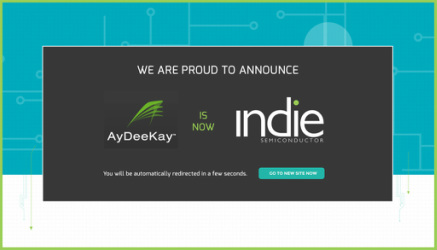 click image for more information
indie Semiconductor designs and manufactures customized integrated circuits. Based on our extensive proprietary library of pre-approved analog and digital subsystems, indie will specify, design, and manufacture a device for your application.

The indie library coupled with in-house top-level assembly techniques, allows customized devices to be generated in a short time, thus allowing a low design cost, which in turn enables AyDeeKay to offer devices for small and medium volume projects, which could otherwise only be served by standard, off-the-shelf, low-integration catalogue products.

Available blocks include, short range RF link, battery management, high voltage power management, low power sensor interfaces, high voltage switching, motor control, LCD driver, LED driver, various user interfaces, and basic building blocks such as ADC, DAC, Operational Amplifiers voltage references and comparators.


---
| | |
| --- | --- |
| indie ASICs can embed an ARM microcontroller core together with a variety of analog and mixed signal blocks, including low power or high voltage power management, wired and wireless communications interfaces, sensor interfaces, user interfaces or high voltage control interfaces. | |