GM SYSTEMS NOW DISTRIBUTES ABACOM SOFTWARE
STARTING IN AUGUST, 2013 WE WILL BE DISTRIBUTING SPRINT-LAYOUT 6.0 Design your own Printed Circuit Boards AND sPlan 7.0
The schematic editor for Windows SOFTWARE IN THE USA.
OTHER ABACOM SOFTWARE PACKAGES WILL START IN SEPTEMBER, 2013
SPRINT LAYOUT 6.0 Design your own Printed Circuit Boards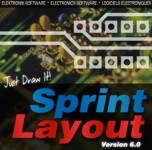 Sprint-Layout 6.0
Design your own Printed Circuit Boards
Sprint-Layout is a simple but powerful tool to create layouts for single-sided and double-sided PCBs (Printed Circuit Boards). The software comes along with all functions that are necessary for board design. Even professional features, like export of Gerber-files (for professional manufacturing) or HPGL (for isolation-milling with CNC machines) are included, while the handling of Sprint-Layout was kept self-explaining.

---
sPlan 7.0 The schematic editor for Windows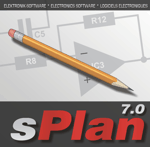 sPlan 7.0
The schematic editor for Windows
With sPlan you will design your schematic circuit diagrams clean and easy on your PC. Many powerful functions like the the extensive component library, the usage of free definable background form sheets, automatic component numbering, component searching, component lists, etc. will help you. Even beginners will create perfectly designed schematic diagrams within minutes.

---