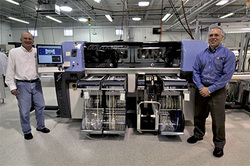 Europlacer wins on technology and genuine customer service
Founded in 1998, Advanced Circuit Technology, Inc. (ACT) is a contract manufacturing company located in Rochester, NY that offers electronic manufacturing services for circuit card assembly, thick-film hybrid circuit design and manufacturing, box build final electronic assembly, and testing.
ACT prides itself on delivering solutions to complex electronic design and manufacturing problems. The company has extensive experience with advanced electronic assemblies and constantly pursues new customers to take advantage of its capabilities. ACT can design, prototype and deliver hybrids in as little as two weeks and it offers prototype through production services on all electronic assemblies. Furthermore, its facility has the capacity to increase its current production level, allowing the company to service new customers while satisfying the growing needs of its current customers. From prototype to production, ACT offers turnkey solutions and an uncompromising policy that customer satisfaction is its number one priority.
In order to keep that priority, ACT is on the constant lookout for the latest and greatest technologies to support its growing list of new and existing customers. And it was on such a mission that ACT came across Europlacer North America. The relationship began on the show floor of the 2012 IPC APEX EXPO and has grown and strengthened since then, providing numerous benefits for both partners.
Bob Kajfasz, ACT's Vice President, recalled, "We were pleasantly surprised to find Europlacer at the 2012 IPC APEX EXPO. Originally, we attended the show with the intention of learning more about Europlacer's competitors. However, some of our team members took part in a demo and, by the end, they were sold."
Kajfasz added that after visiting Europlacer's competitor during the exhibition, the company decided that Europlacer was a better fit. "The competition was busy every time we stopped by their booths. Europlacer's booth also was busy; however, its staff was quick to respond to our questions and was willing to work with us on a package that was ideal for us. Our operators liked what they saw in the iineo-II because it was more of a production machine designed for use in our high-mix environment. It was set up similarly to the competition's systems, but we could not find a system that matched all of Europlacer's features. Europlacer has a better feeder design concept, making it more straightforward and easier to use."
Peter Elia, ACT's Sales Manager, commented that the iineo-II has provided amazing accuracy of placement and speed. The Europlacer speed, in combination with ACT's skilled operators, robust sales and marketing efforts, has allowed ACT to be able to bid and win higher volume jobs and reduce pricing to make the company more competitive. "Due to this purchase, we can now move boards four to five times faster. Additionally, we are producing in one day what we previously were accomplishing in a week's time."
"Changing to a new process can be challenging," said Kajfasz. "Europlacer's crew made it easy, however, and the equipment was both straightforward and easy to work with. There is a learning curve with new feeders, software and new equipment that makes upfront customer support that much more important. Europlacer provided us with everything we needed and continues to do so, even a year into our partnership."
Elia said, "We are a small company, which has always allowed us to respond quickly to customer demands and now we have the equipment and throughput of a much larger company that makes us as competitive as anyone in the industry. When customers come through our facility and see our processes, we are able to tell them that we can compete with anyone — including the big companies — because of the speed, accuracy and rapid changeover capability of the Europlacer system. We are strengthening our business relationships because they know that we have great, high-end equipment that is designed for the work they are asking us to perform. The accuracy of Europlacer is really amazing."
"The Europlacer is a game changer for us that helps position ACT to a new level of production," concluded Elia. "Productivity and genuine customer service simply define how Europlacer and ACT are ahead of the curve."
http://www.advcircuit.com/
http://www.europlacer.com/en/act.html