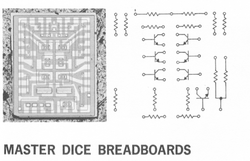 FIGURE 1 Master Dice Bread Board (LEFT) Figure 2 Schematic of the available devices on the chip (RIGHT)
Since the birth of monolithic integrated circuit (IC) technology, analog circuit designers have looked for a quick path to new precision, compact and low cost system designs. This approach would integrate many of the standard IC functions into a new highly integrated semi-custom monolithic chip. The cost of afull custom chip was too expensive in those early days.

The 1960s
The first baby steps in the early 1960s was "discretionary wiring" on bipolar "master dice breadboards"[1] using gold ball wire bonds. These were intended as prototype devices.Figure 1 shows a chip without the wire bond interconnect and Figure 2 shows the schematic of the "breadboard chip" components. Figure 3 shows a "breadboard chip" with a rat's nest of wire bonds. If breadboarding was successful, the chip would be metalized for production.


Figure 3 The chip configured as a prototype IF amplifier
As the analog chips became more complicated, this approach was later replaced with the "master slice" process using one or two metal layers to interconnect the transistors, resistors, and capacitors as a semi-custom design (see Figure 4). Interdesign/Ferranti/Zetex (now Diodes Inc.) popularized the "Mono-Chip." Many other semiconductor companies had similar semi-custom bipolar analog arrays.
FOR MORE CLICK THE LINK ......
HERE