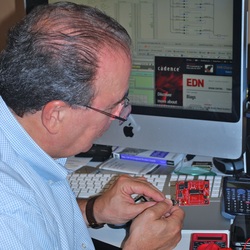 Looking @ electronics
Tom Terlizzi
- June 27, 2012
Like the Greek God Janus this Blog will look back, look at, and look ahead at electronics design, development and technology. Prior to the internet, as a gatekeeper of technology at a large "Fortune 500 company", one was able to become a self-proclaimed "expert" within weeks. Today with the internet and communication technology, it takes a fraction of time.
This blog will present eons of having dealt with electronic technology and its impact on society. After watching my soon to be three year old grand daughter on my iPad playing Disney Princess games or my daughter simultaneously texting, cell phoning, answering her email, doing her homework on her PC (and still getting straight A's), it easy to see how we are all linked up with technology.
Subject areas will be based on venues not normally covered or my analysis of where trends will lead us as well as unique miscues in the electronics industry. Topics will range from electronic components, semiconductors, software, computer hardware, design systems, RF, wireless, Internet to education and other social items.
We will try to keep it brief. As Shakespeare said "Brevity is the soul of wit". I hope you'll enjoy it and if you have comments, criticisms, or topics you want us to cover just send me a note.
thanks and hope to hear from you
.
Tom Terlizzi